Wire Mesh Series
Welded Mesh Fences
Metal Wires
Processed Products
Stainless Steel Wire Mesh
Materials: 302,304,304L,316,316L
Characteristics: It also is called "Super Slim Silk" with many advantages, for example: exact square mesh, high permeability, level surface, non-knot, standard mesh, accurate filtering fineness, high frictional strength, good resilience, stable strength that don't change under ultra-violet rays.
Applications: Suited to be printing plate directly with curved surface printing stock, such as glass, china, metal, plastic, rubber, printed circuit, etc. Even be used in the disgusting conditions, like multi-color printing, mass printing, continuous tone printing, precision printing, etc.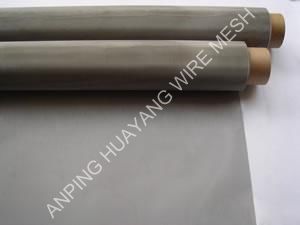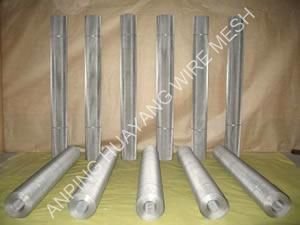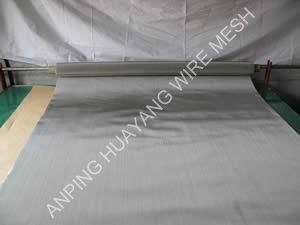 Mesh/Inch

Wire Diameter

Aperture

Open Area

Weight(LB) /100 Square Foot

Inch

MM

Inch

MM

1x1

.080

2.03

.920

23.37

84.6

41.1

2X2

.063

1.60

.437

11.10

76.4

51.2

3X3

.054

1.37

.279

7.09

70.1

56.7

4X4

.063

1.60

.187

4.75

56.0

104.8

4X4

.047

1.19

.203

5.16

65.9

57.6

5X5

.041

1.04

.159

4.04

63.2

54.9

6X6

.035

.89

.132

3.35

62.7

48.1

8X8

.028

.71

.097

2.46

60.2

41.1

10X10

.025

.64

.075

1.91

56.3

41.2

10X10

.020

.51

.080

2.03

64.0

26.1

12X12

.023

.584

.060

1.52

51.8

42.2

12X12

.020

.508

.063

1.60

57.2

31.6

14X14

.023

.584

.048

1.22

45.2

49.8

14X14

.020

.508

.051

1.30

51.0

37.2

16X16

.018

.457

.0445

1.13

50.7

34.5

18X18

.017

.432

.0386

.98

48.3

34.8

20X20

.020

.508

.0300

.76

36.0

55.2

20X20

.016

.406

.0340

.86

46.2

34.4

24X24

.014

.356

.0277

.70

44.2

31.8

30X30

.013

.330

.0203

.52

37.1

34.8

30X30

.012

.305

.0213

.54

40.8

29.4

30X30

.009

.229

.0243

.62

53.1

16.1

35X35

.011

.279

.0176

.45

37.9

29.0

40X40

.010

.254

.0150

.38

36.0

27.6

50X50

.009

.229

.0110

.28

30.3

28.4

50X50

.008

.203

.0120

.31

36.0

22.1

60X60

.0075

.191

.0092

.23

30.5

23.7

60X60

.007

.178

.0097

.25

33.9

20.4

70X70

.0065

.165

.0078

.20

29.8

20.8

80X80

.0065

.165

.0060

.15

23.0

23.2

80X80

.0055

.140

.0070

.18

31.4

16.9

90X90

.005

.127

.0061

.16

30.1

15.8

100X100

.0045

.114

.0055

.14

30.3

14.2

100X100

.004

.102

.0060

.15

36.0

11.0

100X100

.0035

.089

.0065

.17

42.3

8.3

110X110

.0040

.1016

.0051

.1295

30.7

12.4

120X120

.0037

.0940

.0064

.1168

30.7

11.6

150X150

.0026

.0660

.0041

.1041

37.4

7.1

160X160

.0025

.0635

.0038

.0965

36.4

5.94

180X180

.0023

.0584

.0033

.0838

34.7

6.7

200X200

.0021

.0533

.0029

.0737

33.6

6.2

250X250

.0016

.0406

.0024

.0610

36.0

4.4

270X270

.0016

.0406

.0021

.0533

32.2

4.7

300X300

.0051

.0381

.0018

.0457

29.7

3.04

325X325

.0014

.0356

.0017

.0432

30.0

4.40

400X400

.0010

.0254

.0015

.370

36.0

3.3

500X500

.0010

.0254

.0010

.0254

25.0

3.8

635X635

.0008

.0203

.0008

.0203

25.0

2.63